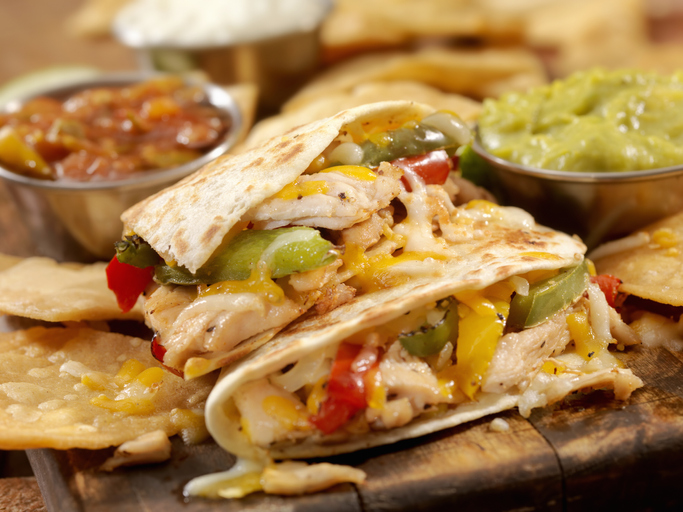 There's an art to packing lunches. Typically, people take the same food to work. In addition, parents often send their children to school with the same food week after week. Instead of doing this, you can switch things up. To help you get started, here are some delicious and healthy packed lunch ideas.
Chicken Quesadilla
Just about every kid loves quesadillas, so they're ideal for work and school lunches. You'll need flour tortillas, cooked rotisserie chicken, Mexican blend shredded cheese, and mild salsa. To make chicken quesadillas, follow these simple directions.
Coat a skillet or waffle maker with cooking spray. Then place one tortilla inside. To that, add a little bit of cheese. However, be sure you spread it evenly around. Next, sprinkle chicken on top. After that, sprinkle on a little more cheese. Now, you'll place a second tortilla on top.
If you make quesadillas in a skillet, you'll need to carefully flip them to cook the other side of the tortilla. For this, lift one edge with a spatula. If the bottom tortilla's golden brown, it's time to flip.
However, if you make this lunch using a waffle iron, there's no need to flip it. Instead, you'll know it's done when the tortilla on top turns golden brown.
When it's done, cut the quesadilla into six pieces. Individually wrap each one in foil. Then wrap all six pieces in another larger piece of foil. Put some salsa in a small container, and that's it.
Turkey, Bacon, and Broccoli Grilled Cheese
Not all kids refuse to eat vegetables. If your child's one of them, this sandwich is fantastic. First, butter two to four slices of bread on one side, depending on whether you're making one or two sandwiches. Add a slice of onion, half a cup of broccoli florets, and four slices of deli-style turkey.
However, the recipe gets better. You'll also add three slices of cooked and crumbled bacon, along with a half cup of shredded cheddar cheese. Then grill it the same way you would a regular grilled cheese sandwich. If needed, you can season it with salt and pepper while grilling.
Honorable Mentions
There are hundreds of ways to make work and school lunches more exciting, delicious, and healthy. In addition to the two options mentioned, here are some more things you can make.
Bento Lunches – Although these originated in Japan, they're now popular around the world. For this, you can be as creative as you want.
Chicken Tortilla Soup – Hot and delicious, this soup makes a perfect lunch on a cold winter day. To keep it hot, put it in a thermos.
Rustic Italian Chicken – Not only does this include flavorful chicken, but it also has a host of vegetables.
Mexican Skillet Pasta – What's not to love about ground turkey, elbow macaroni, tomatoes, cheese, beans, and spices all in one perfect lunch?
You might also like: Try These Indoor Workouts This Winter
Make 2023 Lunches Exciting to Eat
You can find thousands of incredible packed lunch recipe ideas online. However, you and your kids could come up with something special without using the internet. Regardless, these ideas beat bologna and cheese or peanut butter and jelly sandwiches any day.
Disclaimer: The stock image is being used for illustrative purposes only, and it is not a direct representation of the business, recipe, or activity listed. Any person depicted in the stock image is a model.