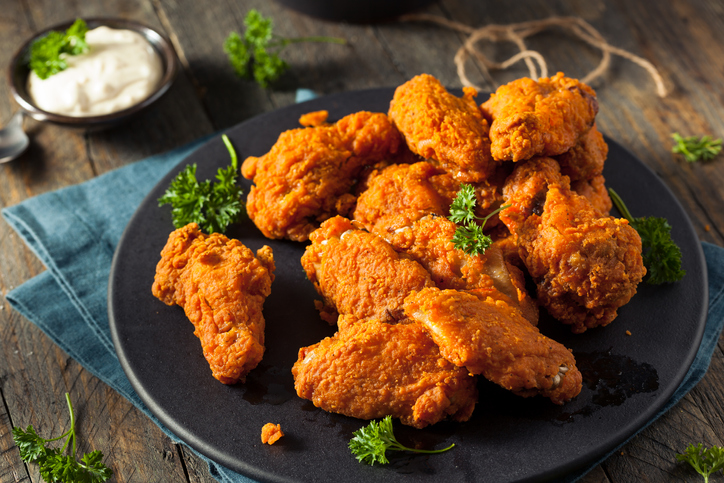 Chicken is an excellent option for two reasons. First, you can make it hundreds of different ways. Second, even picky kids love it. However, if you're like most people, you make it the same way time after time. Instead, serve your family these delicious crunchy lemonade drumsticks.
In addition, this recipe is ideal when having friends or family members over. Whether you invite people to watch a movie or cheer on a football game, this recipe will hit the spot.
Ingredients
12 chicken drumsticks (roughly 3 ½ pounds and leave the skin on)
2 cups breadcrumbs (Panko creates the best crunch)
1/2 cup grated lemon zest
Juice of 1 lemon
3 tablespoons packed light brown sugar
1/3 cup buttermilk
1/4 cup of mayonnaise (real versus Miracle Whip)
1 tablespoon fresh thyme (finely chopped)
Pinch of cayenne pepper
Kosher salt and black pepper for seasoning
Cooking spray (olive oil)
Directions
Not only are these crunchy lemonade drumsticks easy to make, but they offer a unique flavor. One bite and they'll become everyone's favorite.
Step One
Put half of the lemon zest and all the juice in a large mixing bowl. Then, add one cup of water and the brown sugar. To that, you'll add buttermilk. Next, whisk the ingredients until the brown sugar completely dissolves. When done, set it aside.
Step Two
Next, use a fork to pierce the skin of the drumsticks in several places. Afterward, season them with salt and pepper.
Step Three
Now, place the drumsticks in the marinade you just made, cover, and refrigerate them for at least four hours. To enhance the flavor, keep the drumsticks in the marinade overnight.
Step Four
When you're ready to cook these crunchy lemonade drumsticks, remove them from the refrigerator. However, you need to let them sit covered for about an hour to reach room temperature. Then, preheat the oven to 400 degrees Fahrenheit.
Step Five
Put the remaining lemon zest, cayenne pepper, and a little salt and pepper inside a zippered plastic bag. Then, seal the bag and shake it to mix the ingredients. Set it aside.
Step Six
Put the mayonnaise in a large mixing bowl. Now, spray a baking sheet with cooking oil. Take the drumsticks out of the marinade, followed by dipping them in the mayonnaise. Be sure to coat them well. When finished, place the drumsticks inside the plastic bag with the dry ingredients. Again, seal it and shake it to thoroughly cover the chicken.
Step Seven
For the last step, put the drumsticks on the treated baking sheet. If possible, prevent them from touching so they'll bake evenly. After 35 minutes in the oven, turn the drumsticks and bake for an additional 35 to 40 minutes.
You might also like: Visit The Museum Of Natural History
Enjoy
Finally, you can enjoy these crunchy lemonade drumsticks. They taste delicious right out of the oven. However, they're just as good the following day, whether reheated or served cold. They're a perfect combination of tang and crunch. For that reason, you can serve them with almost any side dish.
Disclaimer: The stock image is being used for illustrative purposes only, and it is not a direct representation of the business, recipe, or activity listed. Any person depicted in the stock image is a model.