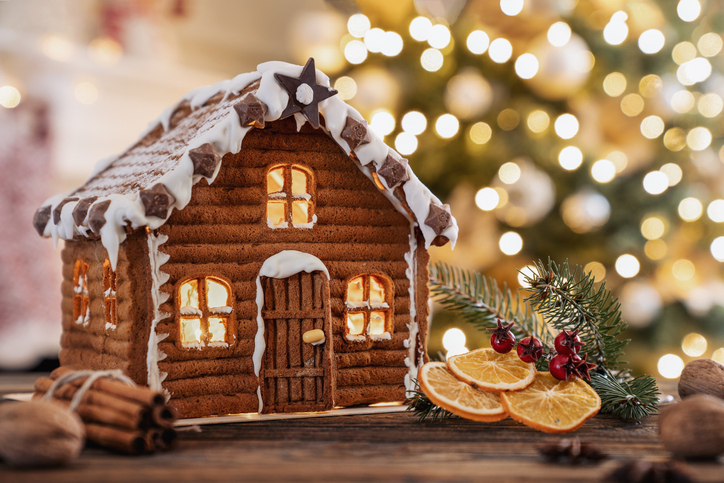 If you've always wanted to make a perfect gingerbread house but didn't because you thought it was too hard, here's great news. It's not that difficult at all. You're about to discover why. With this step-by-step guide, you'll not only enjoy this project but also end up with a beautiful gingerbread house.
The Things You'll Need to Make a Gingerbread House
You'll need a few things for this project:
Gingerbread Cookie Dough
Royal Icing
Decorations (that includes jellybeans, cinnamon candy, sprinkles, M&Ms, crushed peppermints, gum drops, and anything else you want to use)
The Ingredients You'll Need
Although you can buy gingerbread dough in most grocery stores, making it from scratch is better. After all, you can double the recipe, so you'll end up with a gingerbread house and freshly baked cookies.
Before getting started, look at different gingerbread house designs online. In addition, you can either use a free online template or put the house together using your creativity.
2 teaspoons ground ginger
1/4 teaspoon baking soda
3 cups all-purpose flour (level it when measuring)
2 teaspoons ground cinnamon
1/2 teaspoon allspice
6 tablespoons unsalted butter (let this soften at room temperature)
1/4 teaspoon salt
3/4 cup packed brown sugar (light or dark)
A large egg (room temperature)
1/2 cup dark molasses
1 tablespoon water
Making the Dough
In a bowl, whisk the flour, baking soda, cinnamon, ginger, allspice, and salt. Set that aside. Then in a separate large bowl, add the butter and brown sugar. You can use a hand mixer or a freestanding mixer on medium speed. Beat these ingredients for two minutes until smooth and creamy. Next, add the egg, molasses, and water. This time, mix the ingredients on the highest speed setting.
Use a spatula to scrape off the sides inside the mixing bowl, followed by beating the ingredients for another minute but this time on low speed. Note that this dough is thick. Divide the dough in half. For cookies, you'll use the bottom of a floured drinking glass to create circles.
However, you'll roll the dough out on a lightly floured surface for the gingerbread house. Be careful not to roll it too thin. Next, follow the template to cut out the sides, roof, and door you'll need to make the house.
You might also like: Leave Your Dim Headlights In 2022
Assembling the Gingerbread House
Now comes the fun part. You'll use thick royal icing to put all the baked pieces together. Start with the floor. Then add one side. You'll then add the back of the gingerbread house, followed by the last side. Finally, use icing to secure the door in place. You can always use toothpicks to make the house more stable if needed. You can even make a chimney if wanted.
Allow the house to rest for at least six hours before you decorate it. That way, the icing hardens. The only thing left to do is to add all the decorations.
Remember, you can make the gingerbread house simple or fancy. In addition, you can leave the back side of the house off or cut a small hole in it. That way, you can place tiny fairy lights inside.
Disclaimer: The stock image is being used for illustrative purposes only, and it is not a direct representation of the business, recipe, or activity listed. Any person depicted in the stock image is a model.